Robin Tyler and Diane Olson wed at 5:01 pm in Los Angeles.

1 comment | post a comment


---
Some responses to the news that the California Supreme Court has overturned the ban on gay marriage from the Los Angeles Times comments section:

I hope that california will now fall in the ocean. There been have enough earthquakes that I think God was waiting for this decision. I now hope he sinks california with all its fags and mexicans.
If you haven't been to California recently you're probably not aware of how much evil there is out there. You can feel it in the air--oppressive, satanic, demonic power. And not believing in it doesn't make it go away. Charles Manson was just the tip of the iceberg. Nobody there is willing to face up to how bad things have gotten, and how much worse they're going to become if things keep going the way they have been. If you live in California, your kids ARE NOT SAFE, period. Most of you probably know that already, though. The question is whether you'll ever do anything about it. I guess most of those who could have already left.
The front page pic on the LA website says it all. Sick. Gays can do what the want in the privacy of their bedrooms, as far as I'm concerned, but when they bring it around children, as shown in the photo, then a crime has been committed. The only reason this crap has got this far is because of homosexual Hollywood sitcom script writers that present this behavior as normal and acceptable, and anyone against it as a toothless redneck bubba.
Super, more queer BS thrust in our faces. Go away freaks. Just look at the photos of these people -what happened in their childhoods?
WTF is wrong with people?


Los Angeles Mayor Antonio Villaraigosa and Lorri L. Jean, chief executive of the Los Angeles Gay and Lesbian Center, speak at a news conference at the center in Hollywood. In the background are Michael and Jon Galluccio and their children Adam and Madison.
post a comment
---
| | |
| --- | --- |
| Date: | 2006-07-04 11:13 |
| Subject: | Happy Independence Day |
| Security: | Public |
Spy Agency Sought U.S. Call Records Before 9/11, Lawyers Say
By Andrew Harris
June 30, 2006
Bloomberg News

The U.S. National Security Agency asked AT&T Inc. to help it set up a domestic call monitoring site seven months before the Sept. 11, 2001 attacks, lawyers claimed June 23 in court papers filed in New York federal court.

The allegation is part of a court filing adding AT&T, the nation's largest telephone company, as a defendant in a breach of privacy case filed earlier this month on behalf of Verizon Communications Inc. and BellSouth Corp. customers. The suit alleges that the three carriers, the NSA and President George W. Bush violated the Telecommunications Act of 1934 and the U.S. Constitution, and seeks money damages.

"The Bush Administration asserted this became necessary after 9/11,'' plaintiff's lawyer Carl Mayer said in a telephone interview. "This undermines that assertion.''

1 comment | post a comment


---
| | |
| --- | --- |
| Date: | 2006-07-04 10:46 |
| Subject: | Coincidence? |
| Security: | Public |
Al-Zarqawi's wife: Al-Qaida sold him out
July 3, 2006
Associated Press

Al-Qaida leaders sold out Abu Musab al-Zarqawi to the United States in exchange for a promise to let up in the search for Osama bin Laden, the slain militant's wife claimed in an interview with an Italian newspaper.

The woman, identified by La Repubblica as al-Zarqawi's first wife, said al-Qaida's top leadership reached a deal with U.S. intelligence because al-Zarqawi had become too powerful. She claimed Sunni tribes and Jordanian secret services mediated the deal.

[...]

"I think a secret pact was struck whose immediate goal was his death," she told the newspaper. "In return, the American troops promised to ease, at least momentarily, their hunt for bin Laden."

****

C.I.A. Closes Unit Focused on Capture of bin Laden
By Mark Mazzetti
July 4, 2006
The New York Times

The Central Intelligence Agency has closed a unit that for a decade had the mission of hunting Osama bin Laden and his top lieutenants, intelligence officials confirmed Monday.

The unit, known as Alec Station, was disbanded late last year and its analysts reassigned within the C.I.A. Counterterrorist Center, the officials said.
post a comment
---
| | |
| --- | --- |
| Date: | 2006-07-02 10:45 |
| Subject: | Am I Dreaming? If So, Don't Wake Me |
| Security: | Public |
Court's Ruling Is Likely to Force Negotiations Over Presidential Power
By David E. Sanger and Scott Shane
Friday 30 June 2006
The New York Times

The Supreme Court's Guantanamo ruling Thursday was the most significant setback yet for the administration's contention that the Sept. 11 attacks and their aftermath have justified one of the broadest expansions of presidential power in American history.

President Bush and Vice President Dick Cheney spent much of their first term bypassing Congress in the service of what they labeled a "different kind of war."

Now they will almost certainly plunge into negotiations they previously spurned over the extent of the president's powers, this time in the midst of a midterm election in which Bush's wartime strategies and their consequences have emerged as a potent issue.

[...]

What the court's 5-3 decision declared, in essence, was that Bush and Cheney had overreached and must now either use the established rules of courts-martial or go back to Congress - this time with vastly diminished leverage - to win approval for the military commissions that Bush argues are the best way to keep the nation safe.
post a comment
---
| | |
| --- | --- |
| Date: | 2006-06-23 09:48 |
| Subject: | I See Your True Colors Shining Through |
| Security: | Public |
Bigotry Beneath the Fog
By Eugene Robinson
Friday, June 23, 2006; Page A25
The Washington Post

Once in a while the fog machine that's kept on "high" around here to obscure everyone's real intentions breaks down. There's always a mad rush to crank it up again, but for the briefest moment we can see our elected representatives for what they really are, not what they pretend to be. Wednesday we had one of those rare high-definition moments, when the House Republican caucus defied its leaders and refused to back renewal of the Voting Rights Act.

That tells you about all you need to know, doesn't it?
post a comment
---
| | |
| --- | --- |
| Date: | 2006-04-01 23:56 |
| Subject: | Goodbye |
| Security: | Public |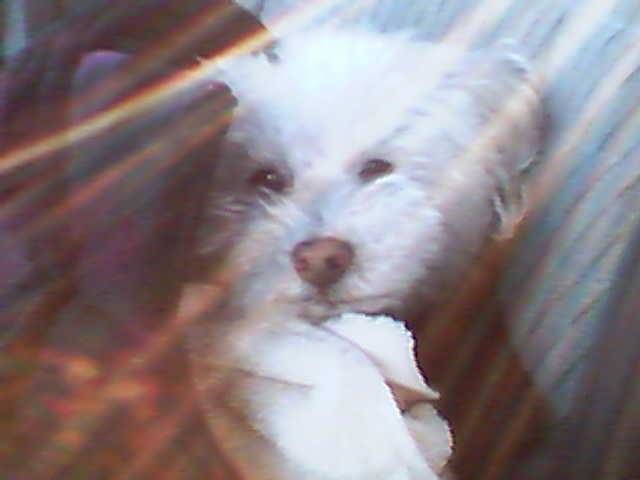 I love you with all my heart and I'll miss you terribly, Skippy.
xoxo
post a comment
---
| | |
| --- | --- |
| Date: | 2006-03-27 10:08 |
| Subject: | NOW Can We Impeach Him? |
| Security: | Public |
Bush Was Set on Path to War, Memo by British Adviser Says
By Don Van Natta Jr.
March 27, 2006
The New York Times

In the weeks before the United States-led invasion of Iraq, as the United States and Britain pressed for a second United Nations resolution condemning Iraq, President Bush's public ultimatum to Saddam Hussein was blunt: Disarm or face war.

But behind closed doors, the president was certain that war was inevitable. During a private two-hour meeting in the Oval Office on Jan. 31, 2003, he made clear to Prime Minister Tony Blair of Britain that he was determined to invade Iraq without the second resolution, or even if international arms inspectors failed to find unconventional weapons, said a confidential memo about the meeting written by Mr. Blair's top foreign policy adviser and reviewed by The New York Times.

"Our diplomatic strategy had to be arranged around the military planning," David Manning, Mr. Blair's chief foreign policy adviser at the time, wrote in the memo that summarized the discussion between Mr. Bush, Mr. Blair and six of their top aides.

"The start date for the military campaign was now penciled in for 10 March," Mr. Manning wrote, paraphrasing the president. "This was when the bombing would begin."

[...]

The memo indicates the two leaders envisioned a quick victory and a transition to a new Iraqi government that would be complicated, but manageable. Mr. Bush predicted that it was "unlikely there would be internecine warfare between the different religious and ethnic groups." Mr. Blair agreed with that assessment.

The memo also shows that the president and the prime minister acknowledged that no unconventional weapons had been found inside Iraq. Faced with the possibility of not finding any before the planned invasion, Mr. Bush talked about several ways to provoke a confrontation, including a proposal to paint a United States surveillance plane in the colors of the United Nations in hopes of drawing fire, or assassinating Mr. Hussein.
post a comment
---
| | |
| --- | --- |
| Date: | 2006-03-26 12:24 |
| Subject: | Supporting Our Troops |
| Security: | Public |
Gulf War Veteran Gets Placebos Instead Of Real Medicine
February 23, 2006
WSOC-TV, Charlotte, NC

A Gulf War veteran undergoing medical treatment said he was given placebos -- or sugar pills -- instead of real medicine.

Like thousands of other soldiers, Army veteran Mike Woods said he developed bizarre symptoms after serving in the first Gulf War -- blackouts, chest pain and numbness in the extremities.

Woods looked to the Veterans Administration for help. He said his VA doctor prescribed him a drug called Obecalp.

"She told me there was this new drug out that would really help me with all of my physical conditions, and my pain. She really wanted me to try it," said Woods.

But when the pill provided no relief, Woods did some research and learned that Obecalp isn't a medicine at all, but a sugar pill. He was shocked to learn the word "obecalp" is placebo spelled backward.
post a comment
---
| | |
| --- | --- |
| Date: | 2006-03-25 00:29 |
| Subject: | John Dean: Bush=Nixon |
| Security: | Public |
An Update on President Bush's NSA Program: The Historical Context, Specter's Recent Bill, and Feingold's Censure Motion
By John W. Dean
Friday, Mar. 24, 2006
FindLaw.com

President George Bush continues to openly and defiantly ignore the Foreign Intelligence Surveillance Act (FISA) -- the 1978 statute prohibiting electronic inspection of Americans' telephone and email communications with people outside the United States without a court-authorized warrant. (According to U.S. News & World Report, the President may also have authorized warrantless break-ins and other physical surveillance, such as opening regular mail, in violation of the Fourth Amendment.)

Bush's position is that he does not need Congressional approval for his measures. Even he does not claim that Congress gave him express power to undertake them, but he does claim that Congress indirectly approved such measures when it authorized the use of force to go after those involved in the 9/11 terror attacks on the United States. He also argues that, in any event, approval was not necessary - for he argues that he has such authority under Article II of the Constitution, as the chief executive, and Commander in Chief, charged with faithfully executing the laws of the land and protecting the Constitution.

These arguments are hauntingly familiar to this observer.

[...]

In the end, this issue is going to be resolved by the 2006 midterm election. If Republicans lose control of either the House or Senate, the investigations of the Bush/Cheney White House will begin. It won't be pretty. It will make dealing with lying about sex look like High School hazing. It will even make Richard Nixon look like a piker when it comes to staying within the law.
post a comment
---
browse
back 10 entries
my journal
my userinfo
my friends
my calendar
=> Help Page <=
news sites
Al Jazeera
BBC
The Christian Science Monitor
CNN
The Colbert Report
The Daily Show with Jon Stewart
Drudge Report
The Economist
The Financial Times
Fox News
The Guardian
The Huffington Post
The Independent
Iraq Today
Le Show with Harry Shearer
The Memory Hole
Michael Moore
The Nation
National Review Online
The New York Times
The Onion
Tom Paine
Progress Report - Center for American Progress
Truthout
iraqi blogs
A Family in Baghdad
Baghdad Burning
Hammorabi
Healing Iraq
Iraq Blog Count
Iraq the Model
The Mesopotamian
Nabil's Blog
soldier blogs
A Female Soldier
Anonymous American GI
Army Girl
Doc in the Box
From My Position...On the Way!
Just Another Thunderhorse Roughneck!
Mudville Gazette
Soldier's Paradise II
blogs
Andrew Sullivan
Back to Iraq 3.0
Bill Maher
Blah3.com
Bob's Links and Rants
Crooks and Liars
Daily Kos
Empire Notes
Eschaton
Jesus' General
Juan Cole: Informed Comment
Iraq and Afghanistan Veterans of America
The Left Coaster
Lies.com
Majority Report Radio
Margaret Cho
The O'Franken Factor
One Good Move
On Lisa Rein's Radar
Political Animal
Tacitus
Talking Points Memo
This Modern World
Today in Iraq
quick stats
U.S. Soldiers Killed in Iraq
Civilian deaths in Iraq
Cost of the War in Iraq
Candidate and Elected Official Voting Records
Washington Post Polls
Gallup Poll
alerts
quotes
This is an administration that is against Planned Parenthood. Judging by Iraq, they're against planned anything. -- Bill Maher

- - - - -

Liberals boo. Conservatives bomb. -- Jon Stewart

- - - - -

Tony Snow, Fox News: It's a new world, Bill.

Bill Maher: It's the same world, we just joined it.

- - - - -

Give me liberty or give me death. -- Patrick Henry

- - - - -

They that can give up essential liberty to obtain a little safety deserve neither liberty nor safety. -- Benjamin Franklin (inscription at the Statue of Liberty)

- - - - -

They never stop thinking about new ways to harm our country and our people, and neither do we. -- George W. Bush

- - - - -

You know, back in 2000 a Republican friend of mine warned me that if I voted for Al Gore and he won, the stock market would tank, we'd lose millions of jobs, and our military would be totally overstretched. You know what? I did vote for Al Gore, he did win, and I'll be damned if all those things didn't come true! -- James Carville

- - - - -

So according to [White house legal counsel Alberto Gonzales' statement "In my judgment, this new paradigm renders obsolete Geneva's strict limitations on questioning of enemy prisoners and renders quaint some of its provisions"], we're engaging them in a new paradigm. And believe me...you do not want that new paradigm wrapped around your nuts. -- Jon Stewart, "The Daily Show"

- - - - -

He who fights with monsters should look to it that he himself does not become a monster. -- Friedrich Nietzsche

- - - - -

Sometimes I overstate for emphasis. -- Donald Rumsfeld

- - - - -

If you never encounter something that offends you, you're not living in a free society. -- Kim Campbell, former Canadian Prime Minister

- - - - -

Take away the right to say "fuck" and you take away the right to say "fuck the government". -- Lenny Bruce

- - - - -

Bush called Spain's Prime Minister [after the Madrid bombings] to offer condolences and to offer "If it'll make you feel better, we'd be happy to attack a country that had nothing to do with it." -- Bill Maher

- - - - -

The truth is what is; what should be is a dirty lie. -- Lenny Bruce

- - - - -

Let's just be real and admit that finally, and unfortunately, true class warfare has come to America. Yale class of '66 vs. Yale class of '68. -- Bill Maher

- - - - -

If you're keeping score at home, the war in Iraq has yielded one police state and now one socialist state. So, no democracies yet, but we're getting really close. -- Jon Stewart, "The Daily Show"

- - - - -

It's all summed up in Al Qaeda's motto: WWGD - What Wouldn't Gandhi Do? -- Stephen Colbert, "The Daily Show"

- - - - -

I'm the commander - see, I don't need to explain - I don't need to explain why I say things. That's the interesting thing about being the President. Maybe somebody needs to explain to me why they say something, but I don't feel like I owe anybody an explanation. -- George W. Bush

- - - - -

I don't understand how poor people think. -- George W. Bush

- - - - -

I think the American people will be shocked by such contempt for their intelligence [by the use of television advertising in an election campaign]. This isn't Ivory Soap versus Palmolive. -- Adlai Stevenson

- - - - -

When you strip it all away, Jerry Garcia destroyed his life on drugs. And yet he's being honored, like some godlike figure. Our priorities are out of whack, folks. -- Rush Limbaugh

- - - - -

In America, when a man puts something in another man, it had better be a bullet. -- Bill Maher

- - - - -

Oh Donald. Is there no statement on foreign policy that you can't infuse with a whiff of dickishness? -- Jon Stewart, "The Daily Show"

- - - - -

They claim they don't want 9/11 to become a political football. How ridiculous is that coming from the guy who'll be addressing the Republican Convention on the top of a trash heap with a fireman in one arm and a megaphone in the other? -- Bill Maher

- - - - -

That is my prediction - that they'll carry [Osama Bin Laden] into the Republican National Convention tied to a pole like Mighty Joe Young. -- Bill Maher

- - - - -

All marriages are same sex marriages. You get married, and every night is the same sex. -- Bill Maher

- - - - -

Before Kennedy, nobody thought that you could get a Catholic behind the Presidential desk. Before Clinton, nobody thought you could get a Jew under one. -- Bill Maher

- - - - -

I am angry that so many of the sons of the powerful and well-placed... managed to wangle slots in Reserve and National Guard units...Of the many tragedies of Vietnam, this raw class discrimination strikes me as the most damaging to the ideal that all Americans are created equal and owe equal allegiance to their country. -- Secretary of State Colin Powell

- - - - -

What really excites me is that this revelation lowers the bar for the next invasion. Before, it was "imminent danger." Now it's "What are you looking at? You looking at me? 'Cause my friend says you're looking at me. You must be looking at me, because there's nobody else here." -- Stephen Colbert, "The Daily Show"

- - - - -

"Dozens of weapons of mass destruction-related program activities"? What the fuck is that? If he had just put it like that, we wouldn't have gone to w--...oh. -- Jon Stewart, "The Daily Show"

- - - - -

Democrats look at a half glass of water and say "It's half empty." Republicans look at it and say "Who the hell drank half my water?" -- Jeff Cesario

- - - - -

Call me crazy, but I think the President should read the paper! Otherwise, he's like Louis XIV. "What do the people think of me?" "They love you, sir!" -- Bill Maher

- - - - -

[The Republican National Convention] were saying that they're all angry about how two of these [MoveOn.org] ads were comparing Bush to Hitler? I mean, out of thousands of submissions, they find two. George Bush is not Hitler. He would be if he fucking applied himself. -- Margaret Cho

- - - - -

American democracy will never be destroyed by outside enemies - but it can be destroyed by the malefactors of great wealth who subtly rob and undermine it from within. -- Teddy Roosevelt

- - - - -

We're all Jackson, all the time. A story like this is our crack cocaine. -- unnamed cable news producer

- - - - -

People demand freedom of speech as a compensation for the freedom of thought which they never use. -- Kierkegaard

- - - - -

They're a wonderful medication -- not medication. How would you call it? They're called Ambien, which is very good. You don't use Ambien? Everybody here uses Ambien. -- Colin Powell

- - - - -

The local news makes my brain stupid. -- Jenn

- - - - -

I envision a day when all elected officials have electrodes implanted in their chests, and if every morning, a majority of registered voters don't press the large green 'LIVE' button on the dashboard of their cars, that official's heart will explode. -- Stephen Colbert (The Daily Show) on the future of democracy in the wake of the California recall election

- - - - -

That's the spirit, George. If nothing else works, then a total pig-headed unwillingness to look facts in the face will see us through. -- General Sir Anthony Cecil Hogmanay Melchett, "Blackadder Goes Forth"

- - - - -

The death of democracy is not likely to be an assassination from ambush. It will be a slow extinction from apathy, indifference, and undernourishment. -- Robert Maynard Hutchins

- - - - -

Interviewer: So, setting aside why we're in Iraq, how we go there, whether we should have gone in in the first place, where are we now? Where do you see our position right now?

Former Ambassador Joseph Wilson: Well, I think we're fucked.

- - - - -

This is still a dangerous world. It's a world of madmen and uncertainty and potential mental losses. -- George W. Bush

- - - - -

Whoever controls the media - the images - controls the culture. -- Allen Ginsberg

- - - - -

Uh, Lisa, the whole reason we have elected officials is so we don't have to think all the time. Just like that rainforest scare a few years back: our officials saw there was a problem and they fixed it, didn't they? -- Homer Simpson

- - - - -

The process of transformation, even if it brings revolutionary change, is likely to be a long one, absent some catastrophic and catalyzing event - like a new Pearl Harbor. -- the Project for the New American Century

- - - - -

Gentlemen! You can't fight in here, this is the War Room! -- President Merkin Muffley, "Dr. Strangelove"

- - - - -

When we put [our enlisted men and women] in harm's way, it had better count for something, It can't be because some policy wonk back here has a brain fart of an idea of a strategy that isn't thought out. -- Retired General Anthony Zinni, former commander of the U.S. Central Command

- - - - -

Interviewer: What do you think of Western civiliation?

Mohandas Gandhi: I think it would be a very good idea.

- - - - -

President George W. Bush staged, as CNN dramatically highlighted, his ninth solo press conference. Solo? What is he, Lindbergh crossing the Atlantic? My god, he's presidenting...alone! -- Jon Stewart, "The Daily Show"

- - - - -

Liberty cannot be preserved without a general knowledge among the people, who have... a right, an indisputable, unalienable, indefeasible, divine right to that most dreaded and envied kind of knowledge, I mean the characters and conduct of their rulers. -- John Adams

- - - - -

Marge, it takes two to lie. One to lie and one to listen. -- Homer Simpson

- - - - -

What luck for the rulers that men do not think. -- Adolph Hitler

- - - - -

War is sweet to those who haven't tasted it. -- Desiderius Erasmus

- - - - -

The bomb the Air Force dropped on Florida at a test range in Pensacola, to be precise, is named Moab. At 21,000 pounds, the Moab is by far the largest, most powerful non-nuclear bomb in the world. And proves once more that our country's military officials have enormous penises. -- Jon Stewart, "The Daily Show"

- - - - -

Homer Simpson: Here's good news! According to this eye-catching article, SAT scores are declining at a slower rate!

Lisa Simpson: Dad, I think this paper is a flimsy hodgepodge of pie graphs, factoids and Larry King.

Homer Simpson: Hey, this is the only paper in America that's not afraid to tell the truth, that everything is just fine.

- - - - -

We are not afraid to entrust the American people with unpleasant facts, foreign ideas, alien philosophies, and competitive values. For a nation that is afraid to let its people judge the truth and falsehood in an open market is a nation that is afraid of its people. -- President John F. Kennedy

- - - - -

Giving money and power to government is like giving whiskey and car keys to teenage boys. -- P.J. O'Rourke

- - - - -

Every gun that is made, every warship launched, every rocket fired signifies, in the final sense, a theft from those who hunger and are not fed, those who are cold and are not clothed. This world in arms is not spending money alone. It is spending the sweat of its laborers, the genius of its scientists, the hopes of its children... Under the cloud of threatening war, it is humanity hanging from a cross of iron. -- President Dwight D. Eisenhower

- - - - -

Kill my boss? Do I dare to live out the American dream? -- Homer Simpson

- - - - -

Truth is incontrovertible, ignorance can deride it, panic may resent it, malice may destroy it, but there it is. -- Sir Winston Churchill

- - - - -

You know the world is going crazy when the best rapper is a white guy, the best golfer is a black guy, the tallest guy in the NBA is Chinese, the Swiss hold the America's Cup, France is accusing the US of arrogance, Germany doesn't want to go to war, and the 3 most powerful men in America are named 'Bush', 'Dick', and 'Colin'. -- Chris Rock

- - - - -

We must not confuse dissent with disloyalty. We will not be driven by fear into an age of unreason if we remember that we are not descended from fearful men, not from men who feared to write, to speak, to associate and to defend causes which were, for the moment, unpopular. -- Edward R. Murrow

- - - - -

The public have an insatiable curiosity to know everything - except what is worth knowing. -- Oscar Wilde

- - - - -

Don't worry, Marge. America's health care system is second only to Japan, Canada, Sweden, Great Britain, well, all of Europe, but you can thank your lucky stars we don't live in Paraguay! -- Homer Simpson

- - - - -

Well Iraq, uh, what can we say? Words aren't enough. That's why we're sending along an FTD 'Sorry I Invaded You Based on False Information From Forged Documents' bouquet. It's the least we can do, and...that's what we usually do. -- Jon Stewart, "The Daily Show"

- - - - -

For myself I am an optimist - it does not seem to be much use being anything else. -- Winston Churchill

- - - - -

As you may have heard, the U.S. is putting together a constitution for Iraq. Why don't we just give them ours? Think about it -- it was written by very smart people, it's served us well for over two hundred years, and besides, we're not using it anymore. -- Jay Leno